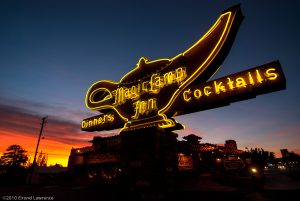 The second edition of Route 66 Railway can be ordered online at LARHF.org or Amazon. You can also download a PDF order form here.
Looking for a signed copy? The author has a limited number of books that can be signed and personalized. Copies are $50 plus $5 shipping; use the Contact Me form to inquire.
Don't miss the May 12 "Route 66 Railway Day" in LA and San Bernardino — info here.
Books are available at retailers nationwide. Selected retailers include:
La Posada gift shop in Winslow, Ariz.
Philippe's restaurant in downtown Los Angeles
Route 66 Mother Road museum in Barstow, Cal.
Original Whistle Stop in Pasadena, Cal.
The book is also available at gift shops in the California State Railroad Museum in Sacramento and the National Steinbeck Center in Salinas.
Copies of the sold-out first edition can be found at Amazon partners.