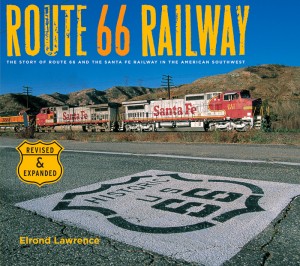 Expanded second printing is SOLD OUT.

Route 66 Railway is the only book to explore the relationship between the Santa Fe/BNSF Railways and historic U.S. 66 in the Southwest, using dramatic color photography and engaging text.  Reviews of the second (and first) edition can be found here.
For 90 years and over 800 miles, the highway and railroad have been constant companions through California, Arizona and New Mexico. This hardcover book is a visual road trip across these iconic routes. Each has experienced rise, fall and rebirth, but today both legends thrive with new popularity. Route 66 has seen a renaissance among travelers seeking the mythic American road trip, far from soulless Interstates. The former Santa Fe (now BNSF Railway) is one of America's busiest railroads — up to 100 trains a day pace the highway through deserts, forests, mountain passes, cities, and dusty towns.
Published by the Los Angeles Railroad Heritage Foundation, Route 66 Railway takes you over Cajon Pass and the Mojave Desert, across the Arizona Divide, and past New Mexico's red mesas to Albuquerque and points east. Enjoy nearly 300 images of modern and classic trains, vintage motels, neon diners, quirky tourist shops, and spectacular scenery.
Hardbound with dust jacket, 192 pages, nearly 300 photos (mostly color)
Color endpaper maps, postcards & memorabilia
$45.00 + $6 shipping (CA residents add 9% tax)
Sample pages from the new chapter, "Milepost 90."